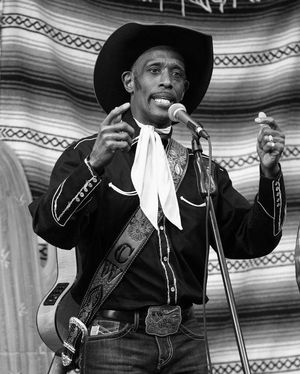 "

Lately I've been a little discontent with the vocalists in the country music mainstream, but after listening to Mr. Carlos Washington go after the mic in "My Little Red Wagon," "It Was Love at First Swing" and the title track in Little Bit of Texas, I feel like I've found what I've been looking for since the early 2010's. He's got the smoothest style of attack I've heard in a long time" - Bethany Page
"

Once you're in tune with the sound of Carlos Washington's Steel Horse Swing I venture to say you'll spot'em (and love'em) everytime"
— Rick Huff Best of the West Reviews
"

I think you are the new King of Western Swing"
— Bobbi Jean Bell- Equestrian Legacy Radio
"

For neophytes wanting to learn about the "Western Swing" genre, I suggest that their starter kit include music from pioneers: Bob Wills, Spade Cooley, Johnnie Lee Wills and Milton Brown. I also recommend listening to recent albums from artists such as Carlos Washington's Steel Horse Swing, "
— Mike Gross- Western Swing Society Music News
"

In a sea of Bob Wills emulators it's refreshing to find the folks who don't mind putting their own stamp on the genre! The driver of this group is just such a "folk" "
— Rick Huff- Best of the West Review for Little Bit of Texas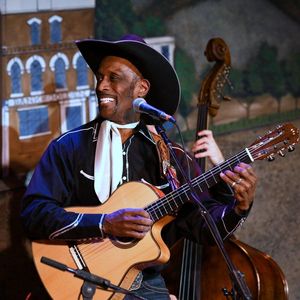 CARLOS WASHINGTON'S STEEL HORSE SWING
Awards / Finalists
Australia OZ Country Radio
2023 Top 5 Song - Little Bit of Texas  
Academy of Western Artists  
2022 Western Swing Male Vocalist, Western Song "Last Cattle Guard"  
2021 Western Swing Song, Western Swing Male Vocalist,  
2019 Western Swing Song & Album "Little Bit of Texas", Western Swing Male Vocalist  
2018 Will Rogers Award Western Swing Song of the Year "Swing Time Baby"  
2018 Western Swing Male Vocalist  
International Western Music Association  
2022 Entertainer, Male Performer, Cowboy Swing Album "Little Bit of Texas"  
2021 Male Performer  
2020 Cowboy Western Swing Album "Little Bit of Texas"  
2019 Group of the Year, Cowboy Western Swing Album "Little Bit of Texas"  
2018 Group of the Year, Cowboy Western Swing Album "Swing Time Baby"  
Professional Country Cowboy Artist Association  
2018 Male Vocalist, Song of the Year "I've Got a Feeling for You" 
Swing Time Baby  and Little Bit of Texas Albums 
National & Global Hits on the Western Radio Charts for over 5 years; playing in the US, UK England, Spain, France, Australia, Argentina, Mexico, New Zealand, Slovenia, and the Netherlands.
DJ's across the globe have raved about the wonderful sound and content  prompting numerous radio Interviews with some of the hottest stations
The Real West from the Old West Radio, Deming, NM - Totsie Slover

Campfire Café, Outwest Radio, KUPR- Nashville, TN- Gary Holt & Bobbi Jean Bell

OZ Country Music Radio, Mildura, Australia - Mark Eckel

Blackdog Indie Country Radio, Ringgold,  GA - Phil Kranz

The Western Way Hour, Conifer, CO - Susie Knight

Western Swing & Other Things Radio, Wechelderzand, Belgium; Toronto, Canada - Marshal & Janey Baily
American Cowboy Radio,  Amarillo, TX - Ben Parks;  Custer, SD - Allen & Jill Kirkham

Snake River Radio Roundup, KRLC-FM Lewiston, ID -  Tommy Tucker

My Kind of Country , Fish Creek Radio, Traverse, MI - Scott Wikle

Billy Bowles Swinging Country, KSSL-FM Slaton TX-  Billy Bowles

Calling all Cowboys, Chuckaroo the Buckaroo, KPOV Bend OR -  Charlie Engel
Rio Grande Valley Radio,  Keepers of the West  - Farrier Figgs & Ranger Rhys 
Yass FM 100.3, Yass, New South Wales - Beth Brown
ULTRA Radio, Kampen Netherlands - Don Hollander
Swing 'n Country Show KBOO-FM Portland, OR - Tom Swearingen
Nationally Televised  on RFDTV with viewership of over 25 million and Internationally Broadcast  on European Radio along with American Radio programs
Opening Acts and Performances with  Willie Nelson, Mark Chestnut, Aaron Tippin, John Anderson, Boy Howdy, Faith Hill, Dan Seals, Little River Band, Terry McBride, Daryle Singletary, Wheels, Confederate Railroad. 
Award Winning  and internationally acclaimed CARLOS WASHINGTON'S STEEL HORSE SWING is a band originating in Colorado that mixes western swing with rodeo and cowboy classics, celebrating a musical legacy that is timeless.  Reflections of Bob Wills and Hank Thompson with a dash of Asleep at the Wheel give this group a nostalgic feel while keeping it fresh with original songs.  Described by the industry as "Roots Country", their exceptional lyrics mixed with catchy original beats, blends to create an infectious western dance sound that breaks cultural boundaries and has major crossover appeal. Western Swing artist Carlos Washington and his band Steel Horse Swing bring you back to a time when a song made you smile and the music made you want to dance. With a collaboration of talented western and jazz artists,  CARLOS WASHINGTON'S STEEL HORSE SWING has a full array of musical instruments including fiddle, Pedal Steel, Drums, Guitars and Bass along with great vocals giving this group a fun, jazzy, and sort of vintage swing sound; and as Rick Huff recently quoted, "What terrific fun this jazzy Colorado assemblage is!"  This band will have you swingin' and a dancin' all night long.  The Band plays cover songs and original music that bring a smile to your face and dance to your step.
Carlos Washington has a true ranching background, so he doesn't just sing about the west, he lives it! He and his wife Merinda stated their Angus cattle ranch in Colorado. They now reside in Northern New Mexico. He is a former Professional Rodeo Bull Rider and National Team Penning Champion. Re-training cutting horses to make penning horses is another one of his passions. Carlos' reputation as a singing cowboy grew as he was singing on stage in an effort to earn money to pay his entry fees in the Pro Rodeo Cowboys Association and Bill Picket Rodeo association Circuits. Before long, organizers wouldn't let him on a bull without singing the National Anthem to open the Rodeo. After hearing Carlos sing the national anthem, Terry Bradshaw, co-host of FOX's NFL Sunday said of Carlos' anthem performance "Very few can hold a candle to ya or light your fire, son." Carlos  was honored with the title" Denver's Best Country Western Frontman"  by Denver Westward Magazine. 
Carlos Washington's Steel Horse Swing has recently played at the Colorado Cowboy Gathering,  Lone Tree Arts Center with a sold out crowd, the Denver Post's Pedal the Plains with record attendance;  the Town of Castle Rock, Co- Western Heritage  with over 1000 people in attendance;  The famous Cherokee Castle in Sedalia, Colorado with a sold out crowd;  National Western Stock Show parade with an attendance in excess of 1000 people; Dazzles Denver with a sold out crowd; Coyote Creek Concert Series with a sold out concert;  just to name a few. 
 Reviews ( click on magazine to go to article)
 "They were simply amazing and I was star struck from the time they started to when the show ended. Western Swing and Cowboy Music need to be played more often and these guys got'er done!"  - Debra Newton, Fan
"

I think you are the new King of Western Swing"
— Bobbi Jean Bell-Equestrian Legacy Radio's Campfire Cafe
"

"Swing Time Baby" is a real treat! I've been playing it every day or so since getting my copy and it'll stay in my "go to" stack for some time to come. Keep the music coming! "
— Tom Swearingen KBOO-FM Swing 'n Country Show Portland Oregon